People
Photo Gallery
My photo page is a perfect place to display photos of family, vacations, products, games, people, and more. On some photo pages, I have the option to add a title or brief description of each photo in the caption beneath it.
"Keys of Soul"_20x30_acrylic_sold I wanted to capture the essence of Alicia Keys performing and the passion she has for her music. I liked the reds and blues of the stage lighting and the effects they had.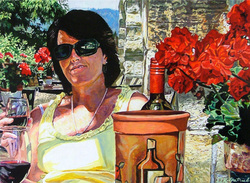 Lynda's lunch_2012_18x24
Dancing With Fairies_36x36_acrylic_10/15 _SOLD_This painting is the second piece representing the rainbow energies of light. The subject closes her eyes and imagines she is surrounded by fairies showering her with the rainbow energy of love , and thus in the moment she becomes love dancing in a dream .
"Crocodile Hunter"_18x24_acrylic SOLD This painting represents the imagination of childhood and how anything could be possible when we were young.
Prince of Time_2010_sold This painting is filled with the numbers of precession. The prince of time controls them as he spins the globe in his hand.
Cleansing ritual _30x40_ 2008_giclee_original 30x34
Butterfly Girl_18x24_ The butterflies are a somewhat abstract representation of the inner workings of ones mind as they spiral towards the center of her forehead.
Cormorant fisherman_20x30_acrylic_04\08_sold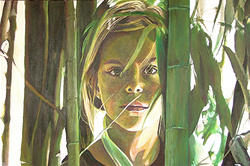 Gaia's Daughter Too_24x36_acrylic_2/2014
Gaia's Daughter_24x30_acrylic_12/2013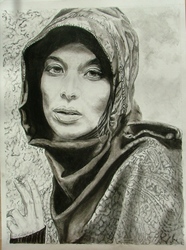 Hidden Beauty_18x24_pencil/charcoal_3/2015 I loved the serene look on the girls face and the subtle changes in tone enhanced the beauty of her facial structure which is unfortunately often hidden behind a veil.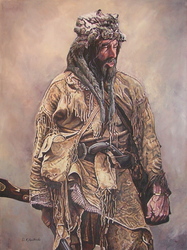 the Path Finder_acrylic_30x40_10/2013
Cascade of Hair_18x24_pencil_4/2014
Eagle Dreamer_30x40_acrylic_3/2014 This painting is a spiritual self portrait, representing my native american past life and honouring my eagle messengers of this life. On the wings of an eagle the angels fly.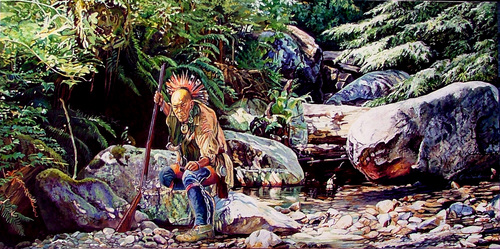 iroquoi scout_24x48_acrylic_2010
Angel's Rapture_24x30_acrylic_6/2014
Que Syrah Sarah_ acrylic_18x24_2011_SOLD_ Red Wine and women two of my favourite things.
Through the Wormhole_30x40_acrylic_2012_NA: In this painting I used an extra terrestrial being from the video game Halo to represent life from the outer dimensions and the crumbling structure of a Cambodian walled city as a portal to a worm hole and interstellar travel .
chinese peasant woman_18x24_acrylic_2012_sold I found this reference on line and just had to paint her. Her character and outfit has volumes of information that I could not ignore.
Invitation toDance_20x30_acrylic_2013
Healing Shower_20x30_acrylic_2013 The abstract flow of energy is representing her aura and the healing effect of a long hot shower
Wish in the Wind_30x40_acrylic_11/2014 This painting was inspired by the Lakotah legend of Pte San Win. She was a spiritual being who brought the Lakotah their sacred pipe ceremonies. It is a theme that has been painted many times before. I wanted to create a different aspect of her nature where by she brings about a return of the buffalo by having the wind carry magical dandelion seeds that replenish the plains with bison.
Spotted Owl_acrylic_30x40_9/2013 I am very much into native american historic culture. I believe it is because of my most recent past life experience.
Lotus Pixie_30x40_acrylic_7/2014 A fantasy piece that could well represent a fourth dimensional reality.